Aloha from the Four Seasons in Maui, Hawaii.
I gotta tell you the Four Seasons in Maui is the MOST AMAZING hotel I've ever stayed at, especially the Club level where you get your own dedicated concierge and access to the club lounge where they have gourmet food for you around the clock.
Considering a club level room STARTS at $1100+/night you can imagine there's some super successful and very wealthy people Shilpi and I have run into in the Club Lounge. And you know it's funny, at first you may think, these people are gonna be really stuck up and snotty.
Actually, the folks in the Club lounge where some of the nicest people we've interacted with during our time here.

Here's the thing: the more successful people are the easier they are to approach and talk to.
Not surprising, when you're highly successful and have a good self-esteem you're going to be very easy to approach and talk to. (BIG TIP HERE)
It's SO COOL to be able to experience Hawaii going first class all the way. So far we've:
1. Flew on a Helicopter Tour of the Island
2. Snorkeled with Sea Turtles
3. Pampered at the Spa (having our second massage today)
4. Hiked through the rainforests and caves in Hana
5. Saw an authentic Lua – WOW some really cool traditional dancing and food
6. Went Ziplining
7. Ate Lunch at Mama's Fish House – YUM!
8. Did a little shopping
9. Went to Warren and Annabelle's magic & comedy show – AWESOME show
Here's just a few pics from our trip:
Shilpi and I at the Four Seasons: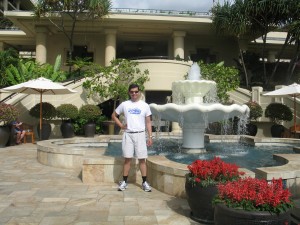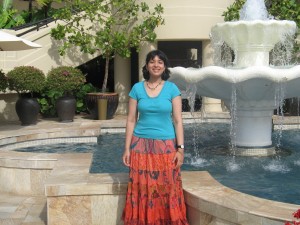 Here's some more pics:
These pics don't show much, I got a kickass video I'm putting together for Monday so stay tuned!